Because I regularly get questions about how to create a blog, I decided to put down as much as I could in this rather massive guide. If you're starting a blog from scratch, I suggest you read through this guide from top to bottom. If you're looking for information on a specific topic, feel free to click through to the relevant section.

How to start a travel blog and keep it running: index
Before you do anything, read this
BEFORE YOU DO ANYTHING
I know, I know, you're all excited to start a blog, but it's good to sit down first and think this through. While you can easily create your own blog in a day, there are two things you should think about before getting started.

1. What will you write about? Be specific!
This might seem like a stupid question ("Travel, duh!") but it isn't. The answer to this question will determine your blog's name, what it will look like and how you will run it. So just think for a moment.
How often do you travel? Where do you plan on traveling to in the following year? Is there something about travel that really excites you (beaches!) or something that really bores you (museums?)? Is there something about the way you travel that makes you unique or that stands out? Maybe you always travel solo, maybe you eat vegan, maybe you eat cupcakes everywhere you go.
Asking yourself questions like this and answering them will show you what your travel blog should be about. It will show you your niche. And believe me, you need one.
There are about 1,364,752 travel blogs out there. Okay, that number is completely random and totally made up, but you get the point. You will not stand out by writing about travel. You'll need to go more specific than that. I knew this, but it took me a long time to stop fighting the obvious: that I should create detailed travel itineraries as travel planning is where my expertise lies.
You know you've found your thing when you can summarize what your travel blog is about in one sentence. Wonderful Wanderings? It's the travel blog for the cultural and culinary curious who love to travel independently.
Some examples of top travel blogs who've done a great job at establishing themselves as niche experts are:
2. Why do you want to start your own blog?
Granted, your reasons for blogging might change over time. It can start as a hobby and turn into a business. It can start as a side business and turn into your main source of income. It can start as your full-time occupancy and change into something you do on the side because of all kinds of reasons.
Still, it's good to know when you're starting a blog, why you're starting a blog, as this will affect how you go about things and how much time you'll spend on your travel blog. If you start a blog purely as a way to keep friends and family informed while you're traveling or as a creative output, then there really are no "must-do's". But if you plan on growing your blog into a business in one way or another, there are. Below I've listed how to create a blog in several steps… and how to keep it running once you're all set up.

1. Pick a name and secure it everywhere
You've already thought long and hard about what your travel blog will be about, so you've probably come up with some names for it as well. Now, before you buy the domain name you have in mind, it's important to head over to social media first. And by social media I mean every big social media channel:
Facebook
Twitter
YouTube
Instagram
Google+
StumbleUpon
Pinterest
Snapchat
You see, you don't want to make the same mistake as I did. I decided on "Wonderful Wanderings" as the name for my own blog, but "WonderfulWanderings" as an account name wasn't available anymore for all of those social media channels and for some it was also too long, so I'm stuck with different handles now, which might make it confusing for people who want to follow me.
See what I mean? So when you've decided on a blog name, first go to all of these social media channels and check whether that name is still available on all of them. If it isn't and you're really set on the name, you can try a logical variation on it, but then do use that variation for all of your social media and not just for a few channels.
If you've decided on a name and it's available on all social media channels, then you still need to check if it's also still available as a domain name. With so many websites out there, chances are you might have to try out different options.
Every domain name registrar has a tool that lets you check if the domain name you want is still available. When I first started blogging, I bought my domain name from GoDaddy, but I now have it registered with my host Siteground.
A few tips:
I know that there are all kinds of cool domain extensions nowadays, like .travel, but .com is still the standard so make sure you get that one (as well).
Do not buy a domain name that looks a lot like an existing one and definitely do not buy the .net version of an existing .com website.
Try to avoid hyphens.
Avoid overused words. Yes, "wanderings" is overused by travel blogs today, so I failed miserably there. But hey, cut me some slack, I had no idea what I was doing when I bought my domain name :D You can avoid the mistake I made!
Avoid anything with an expiration date. That means no "twenty-something" or "travelbefore30" stuff.
Alright, now that we've gotten the preaching out of the way, let's get to work! Buy your domain name and sign up for an account on all the social media channels I mentioned. Even if you don't plan on using them all.

2. Sign up for hosting
There are a ton of sites that let you create a blog for free. However, in many cases that means that you won't fully own your blog and that your domain name will have something like "tumblr" attached to it, which just isn't cool or professional. So what you want is a self-hosted blog. I'll explain a bit more about what that means in the next step. For now, all you need to know is that to host a self-hosted blog you need – indeed – hosting.
A hosting company hosts your blog on their servers for a monthly fee (which you can pay annually or for two or three years at a time as well, if that's what you prefer).
When I started blogging I hosted my site with GoDaddy, but as I wasn't entirely pleased with the customer support there, I later switched to HostGator. HostGator worked fine until my site became a bit too big for it to handle and so I recently moved Wonderful Wanderings over to SiteGround, where I find support to be better as well.
You will see that most hosting companies offer a free domain name for a year if you host your site with them so if you want to save a bit of money and don't have a reason to buy your domain name from a separate company, you can always just get it at the same time that you purchase your blog hosting.
If you decide to go with SiteGround, like me, just surf to their homepage and click "sign up". This will show you the different plans they offer. I'm currently on the GoGeek plan, but if you're just starting out, the StartUp plan will do. You can always upgrade later.
Ones you've chosen your plan, SiteGround will give you the option to either enter the domain you've purchased before or to register a domain name through them for free.
After that, it will give you a chance to review your order and purchase your hosting.

3. Install WordPress
Like I said, there are a lot of platforms out there on which you can start a blog. A lot of them are free as well. While you can go ahead and compare them all if you like, a highly recommend you choose self-hosted WordPress.

Self-hosted vs not self-hosted
What are the differences between having a self-hosted and a not self-hosted website?
1. Ownership of your domain name
With a self-hosted blog, you own your domain name. This travel blog is self-hosted and has "WonderfulWanderings.com" as the domain name, whereas a not self-hosted version would be "WonderfulWanderings.wordpress.com", for example. A well-known platform for not self-hosted blogs is Tumblr.
2. Control
When you create a blog on a platform that doesn't allow self-hosting, you're dependent on that platform's performance and "mood swings". If it suddenly decides your travel blog doesn't comply with its T&C anymore, it can take you offline without an explanation. With a self-hosted blog, you are the sole owner of your data and you decide what happens to it. You'll still need a server to host your blog on, but we covered that in the previous step.
3. Advertising
You usually cannot sell advertising on a blog that's not self-hosted. Even if you don't want to sell advertising on your travel blog from the start, don't deny yourself that opportunity for later.
4. Plugins and custom themes
When you use a platform like Tumblr, the way your travel blog looks will depend on the templates and functionalities available on that platform. With a self-hosted blog, you can install customized themes or plugins and go as crazy as your coding skills or design budget allow for.

Why WordPress?

Wordpress is the standard blogging platform. There are a few companies trying to compete with it, like Wix and Squarespace, but as far as I know, WordPress is still king. Even the BBC and Beyoncé use WordPress!
There are two versions of WordPress: WordPress.com, which is the one that's not self-hosted and that you thus won't use, and WordPress.org, which is the one you need.
If you're still hesitant about WordPress, you might want to check out this WordPress vs Blogger comparison on First Site Guide. They have videos comparing WordPress with other systems as well.

Installing WordPress
Now that you have your domain name and hosting, you can finally install WordPress. SiteGround offers you the option to automatically install WordPress. They have a tutorial on it here. If you rather do it yourself, you can find a tutorial for installing WordPress manually here.

4. Choose and install a theme
You won't be able to really create your own blog until you've installed a theme. Themes are the base for the layout of your blog. They're like design templates. You can use them as they are or adapt them (change colors etc.) to make your travel blog look the way you want.
There are tons of free WordPress themes out there and a lot of them will work just fine when you first start out. You can search for them directly from your WordPress dashboard, in the back-end of your travel blog.
However, if you're looking for something customized, a premium (read: not free) theme is the way to go. Wonderful Wanderings uses a custom-made theme based on the Genesis framework from StudioPress, one of the best WordPress theme frameworks out there. You can buy Genesis separately and hire a designer to create a theme or you can buy the Genesis framework in combination with one of the child themes (that you can also customize or have customized if you want).
Whatever theme you choose, whether it's a free one or a paid one, make sure it's responsive a.k.a. mobile-friendly and the creator offers support!

5. (Hire someone to) Design your logo
If you're serious about your travel blog, you'll need a logo. You won't only use this in the header (the top part) of your blog, but also on future business cards, on all your social media channels and as a favicon (the little icon you see on the left in the tab when you have your site open in an internet browser).
If you've got design skills, great! If not, you can still start by creating something simple in a free tool like Canva and hire a designer to create a new version of your logo when you're a bit further down the game and certain fo what you're looking for.

6. Create your main pages

While you might not be ready yet to create blog posts, there are a few pages every travel blog should have. I recommend creating these as soon as you have your site up and theme installed, as having a few pages online will help you get the look of your blog just the way you like it.
For example, you'll have to set font colors and size for your posts and pages and there's no way to know what those will look like unless you have, indeed, some pages online. In terms of posts, you can always create a test post or a "Welcome to my blo" post and update that later.
Some pages your blog should definitely have:
an About page, telling readers who you are and, more importantly, what your blog is about
a Contact page, with a form they can use to get in touch with you and possibly also your email address
a Terms & Conditions, Disclaimer and/or Disclosure page. These can be separate or all together and list the rules of conduct on your site, but also that you own the copyright on your text and images, whether you use cookies, use any affiliate programs etc. The easiest way to create this is have a look at what site's similar to yours have done. That way you're sure not to leave anything important out.
You'll also have to decide whether you want your homepage to be your blog page or not. On Wonderful Wanderings, my homepage is static (which means what's on there is on there until I decide to change it), whereas my blog page is updated automatically each time I publish a new post.

7. Install some plugins

Congratulations! You wanted to know how to create a blog; with your domain name secured, hosting set up and WordPress with theme installed and pages created, you now have a running travel blog. It can use some extra functionalities, though, and that's where plugins come in.
Plugins are a kind of extensions or third-party apps that allow you to add a specific functionality to your WordPress travel blog. You can download them in the "plugins" section of your WordPress dashboard.
Most plugins are free, but there are also some premium plugins for which you need to pay. Some of the basic, free plugins that I use, are:
A lot of bloggers also use a caching plugin which "saves" some elements on your site in such a way that they're not renewed or reloaded each time a visitor drops by, thus improving your site's performance. As Siteground already has its own plugin for this, I don't use an additional one. I do, however, use Cloudflare, which is a service that also increases site performance.
Aside from the free plugins above and a few addition ones, I also use these (paid) premium plugins:
Easy Social Share Buttons: a plugin for social share buttons that has a ton of customization options
EWWW Image Optimizer Cloud: EWWW is a service that lets you optimize your images while you upload them. I chose the (paid) cloud version because it's less heavy on the site than the plugin that optimizes your photos on-site vs in the cloud. I only pay $1-$5/month for this depending on how many photos I optimize.
Thrive Leads: a tool that easily lets me create and customize signup forms for my email list, run A/B tests on them and place them anywhere on my site.
WPML: the plugin that allows me to fully translate this site and run it as a bilingual English/Dutch blog.
When you want to install a plugin, always check when it was last updated and if it's compatible with the latest version of WordPress. You should always use the latest version of WordPress and it's probably not a good idea to install a plugin that hasn't been updated in two years.

8. Sign up for Google Analytics

When you've put all this effort into starting a blog, you also want to know if people are actually reading it, right? After you've placed a tracking code on your website (you can do that manually or use a plugin), Google Analytics shows you where your readers are coming from, how long they're staying on your site, what they're reading and more. Signing up for an account is free.
As I mentioned in the previous section, I use the free Google Analytics by Monster Insights plugin to easily connect my blog with Google Analytics. There are other plugins that do this, but I prefer this one as it offers some additional tracking options.

9. Sign up for Google Search Console
This platform gives you additional information about the on- and offsite performance of your travel blog. While Google Analytics focuses on what visitors to your blog do, Google Search Console (formerly known as "Google Webmaster Tools") focuses on how your website performs in search as well as technically. Signing up is free.

Side note: get help when needed
The above stuff is pretty basic and there are tons of guides online that explain step-by-step how to create a blog and get the basic technical stuff right. As time advances, though, you might want to do some more specific and specialized things. Or you might run into some issues. One option is always to do the research and try to do/solve things yourself, the other is to get some help.
My tech hero is Chris Richardson from RTW Labs. Whenever there's something I can't fix or something I don't know how to get done technically, I hire him to do it for me.

10. Get an email address for your blog
Remember how Siteground offered you a free domain name for a year? Well, most hosts also allow you to create your own email address based on your blog's domain name. My blog email address, for example, is sofie[at]wonderfulwanderings[dot]com.
I highly recommend getting an email address like this as it looks more professional than a Gmail address. The only downside to an email address based on your domain name is that it's quicker seen as possible spam by email providers.

11. Start an email list
< If there's one thing a lot of travel bloggers regret it's not starting their email list sooner. Your email list will become one of your most precious assets as a blogger. Social media channels can stop sending you traffic, Google can change its algorithm once again, but you'll always have the readers on your email list. So when you create your own blog, immediately also create an email list. If you don't feel like sending out a newsletter just yet, that's not a problem. Email services like Mailchimp and Aweber allow you to automatically send out blog post updates while still gathering email addresses and building that list.
I used Mailchimp for quite a while and while it was great for the first few years, I've now switched to ConvertKit which gives me a lot more options in terms of segmenting my subscribers and automating things.

12. Develop a content and promotion strategy for your blog and social media channels
You already decided what your travel blog will be about, so the posts you'll write will be related to that topic about most of the time. But there's a ton of other stuff to consider as well.
How often will you post?
How will you promote your articles and where?
Which social media will you be active on and how often?
What about Search Engine Optimization?
Will you focus on text, photography or video?
…
These are all things you need to figure out for yourself and I recommend creating some kind of strategy or plan to follow when you get started. You'll probably change that strategy a gazillion times, but that doesn't matter. The thing is that if you want to test things, you need to have a control first. If you want to know how often it's best for you to post on Facebook, you need to post x times/day for x weeks before you can switch to y times/day and properly compare.
Craft a strategy, then optimize it as you go.

Show yourself
I feel a bit bad giving this advice as I'm not always good at following it myself, but I know that it's valid. People read blogs because blogs are written by people. If they want dry information they'll go to Wikipedia. So show a bit of yourself. Let your readers get to know you. You're a cool person, right?

Decide on a schedule and stick to it
Now, I know this one is controversial. I know some rather big travel bloggers who pump out a bunch of posts one week when they're based somewhere and then won't post for two weeks while they're traveling. I don't think that's bad at all, but when you're getting started, I'd highly recommend you stick to a schedule for yourself, more than for your readers.
If you don't have one, it will be so much easier to postpone publishing and do other things. Like being on Facebook. All. Day. Long.
What really helps me is the WordPress Editorial Calendar plugin. It gives you a calendar view of your scheduled and draft posts right in your WordPress dashboard so that it's very easy to see whether you've been posting consistently or not and when you should start writing again. If you see an empty calendar, hit refresh. If you still see an empty calendar, make some coffee and get started.
If you want an alternative, there is also Strive. Strive adds a responsive content calendar into the WordPress dashboard with a nice modern design. Unlike the Editorial Calendar plugin, Strive also adds a post status feature and color-codes posts based on their status. This way, you can tell at a glance whether your upcoming posts are ready to publish or need more work. There's also a custom checklist that shows up in the post editor, so you can check off items while you work. If you tend to forget things like choosing a category or spellchecking before you hit "Publish," this feature will put an end to that.

Be an expert
As I've mentioned in the beginning, it's not enough to decide you'll write about travel when you decide to create a blog. You have to be more specific than that or you'll get swallowed whole by the ocean of travel blogs out there.
The top travel blogs, the most popular travel blogs, the best travel blogs, they all have something that makes them stand out and the people behind those blogs are considered experts. Not only by their readers and followers, but also by other members of the travel industry.
That's why I think that it's not enough that you know how to create a blog, you also need to know how to build a blog and to me those are two different things. While everyone can create a blog in a day, not everyone can build a blog, no matter how much time they're given.
Building a blog, to me, means building an audience, building a brand, building a reputation and building authority. The result of creating a blog is a visible and visitable (yes, that's a word now) website on the Internet. The result of building a blog is being known as the person/website people go to for X.
Storytelling? You need Mike from Fevered Mutterings. Worried about traveling as a celiac? Go to Jodi from Legal Nomads.
What will your expertise be?

Know who you're writing for
When you're just starting out, you probably won't have a solid reader chore and it might be hard to know who the "typical" (if there is such a thing) reader of your travel blog is. It's your job to both create that reader and get to know him.
By "create" I mean that you should always write with a specific reader in mind. Give him or her a name, decide what his hobbies are, where he's from, what his travel style is. Then write for him. Don't write one post full of erudite language and historical and say things like "amazeballs" in the next while only showing photos. Unless, maybe, your typical reader has a split personality.
By "get to know him" I mean that you should put in the effort to get to know your readers. Ask them questions, answer their emails, interact with them on social media. Show them that you're there and that you care. Be thankful that they're spending a portion of their time reading your words.

13. Learn from others
Networking and casual learning
Networking and learning, two things everyone running a business should do. Even if you don't look at your travel blog as a business (yet), networking and continuous learning are essential to improve your blogging skills and get your name out into the industry field.
Of course, you can learn a lot by simply surfing the internet, but there's such a mass of information out there that it's sometimes hard to find what you need or to even know what it is that you're looking for. That's why I'm listing a few places where you get advice, ask questions and exchange ideas on travel blogging.

1. On the road
On the road? Yes! You sure aren't the only travel blogger out there, so why not meet up with likeminded spirits? A quick Facebook post or tweet can lead you to other bloggers traveling to the same places as you are. Meet them for a drink and talk business. Or not.
2. Conferences and trade fairs
Conferences like TBEX are specifically geared towards travel bloggers. They invite top travel bloggers to talk about things like building a brand, monetizing your blog, SEO and more. You'll definitely learn something new during there. If not during the presentation, then definitely by talking to other bloggers.
Trade fairs like WTM and ITB are more focused on networking and meeting industry people. They can seem overwhelming as they usually they place in ginormous event halls, but if you wear sneakers you'll be perfectly fine.
Check here for more blog conferences.
&nsbp;
3. Facebook groups
Chocolate knows there are Facebook groups for just about everything, including travel blogging. If you just do a search within Facebook for "travel blog" or "travel blogging" you'll already find quite a few, but to make it easier I've listed some of the groups that I'm a member of:
When you find a group you'd like to join, you'll need to send a request and then it's up to the moderators of that group to let you in or not. When they do, make sure to read the group's rules and follow them. In general, spamming and self-promotion are not done.
Also, try to pay it forward. You might not be able to help often when you're only starting out, but don't hold back when you can. People will appreciate it.

Online courses
1. The Superstar Blogging school and Business of Blogging course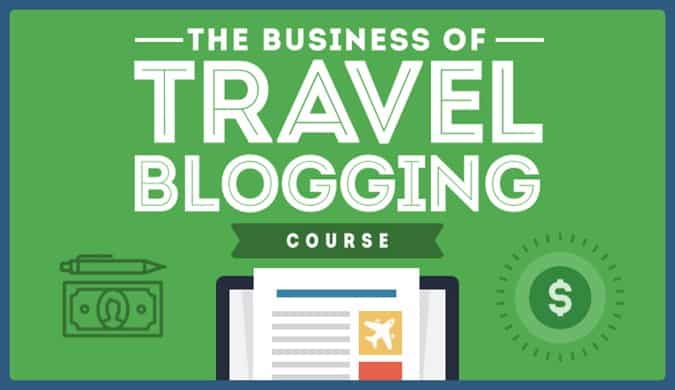 Superstar Blogging is a multi-course travel blogging school created by the famous Nomadic Matt. His The Business of Travel Blogging course focuses on turning your travel blog into a money making business by creating your own products and working with affiliate partners. It covers all the basics for beginning bloggers, from how to create a blog on WordPress to growing traffic, and ads in-depth information through webinars and interviews. While there are some other features as well, the real gem for me is the secret Facebook group where you get to interact with some of the biggest travel bloggers out there and where every question asked is one that will teach you something new. Read my review here.
Aside from that main course, Matt also has courses on travel writing, videography and photography for which he's worked together with experts in those different areas.

2. Niche Site Freedom
Niche Site Freedom is not a travel blogging course, but a course focused on building niche sites to earn money through affiliate marketing. However, I think it's a great course to take if you want to learn how to properly optimize your site for Google as it teaches you how to do keyword research like no freely available blog post out there will.
14. Start making money
You've been waiting for this, haven't you? It's okay, I need to pay my rent as well, but I'm going to be completely honest with you: after more than four years of travel blogging, I'm still full-on experimenting with monetization strategies. One thing that I do know is that the strategies that work are different for every travel blog and that you will really need to find your own way if you want to turn your own travel blog into a business.
That being said, here are some things you could try:

Selling links
This tactic is getting outdated and it could get you into serious trouble with Google, but it's still being done and so I wanted to include it in the list.
Brand buy links not to reach your audience, but to improve their search engine rankings. Google sees this as cheating and will slap any site that does it if it finds out. You can read more about this here.

Sponsored posts
Sponsored posts can take many forms. The "bad" kind of sponsored posts are those which aren't aimed at reaching the audience but are merely published for the link to a brand's website in them. This is basically link selling as discussed above.
A more proper kind of sponsored posts are those either written by the blogger or by the third party to promote or raise awareness about the third party. This kind of sponsored posts has as a goal to get the third party in front of the blogger's audience.

Banner advertising
Banners are the typical square or rectangular ads you see on many websites. You can sell the directly at a flat rate or work through a network, which will likely pay you based on the number of views or clicks the ad gets.
Another way to place banner ads on your travel blog is by using Google Adsense, but you should be aware that you're not likely to make a lot of money with Google Adsense if your traffic is low.

Affiliate programs
Affiliate marketing works like this: you recommend a product on your travel blog by using a special link and if someone buys that product by clicking on that link you earn a commission at no extra cost to them. For example, if you'd like to join the Superstar Blogging course I'm in and you do so by clicking on one of the links to TBS on this blog, I will earn a commission at no extra cost to you.
Sometimes affiliate programs even have benefits for the buyer: if you sign up for Airbnb using my link I receive $25 or €23 Airbnb credit, but so do you. It's a win-win!
And there are also some affiliate networks that have special programs for bloggers. CJ.com, for example, has a "Content Certified" program for bloggers with more than 10,000 unique readers/month. What it comes down to is that when you're accepted to the program, you'll receive a higher commission from the advertisers in that program. Want to get in? Just send me an email and I'll hook you up!
However, it's really important to only recommend products that you have tested out for yourself and that you believe in. How do you think your readers would feel if you recommend them a product, they buy it and then later they find out that it's actually crap? Right. Your readers are everything. Be honest with them, always. And only recommend products and services that you really think can help them. That's what I do.

Selling your own product
Ebooks, tours, merchandising, apps… There are all kinds of things you can create yourself (or have created) to sell on your travel blog.

Travel campaigns
Travel campaigns can take many forms, but in general, these are campaigns during which you go on a trip to promote a certain brand or destination via social media and/or blog posts, during and/or after that trip. A campaign generally lasts longer than the duration of the trip.

Social media campaigns
Promoting a brand via your social media channels.

Contests and giveaways
Contests and giveaways are a bit different from sponsored posts as there's the interactive element of the readers participating to win something. A contest can be designed specifically for the travel blog on which it appears, or a travel blog can also simply promote a contest that a brand is organizing through its own channels.

Content creation
Whatever you do on your travel blog, you can do off your travel blog as well, right? Think freelance writing, videography, creating social media updates, photography, podcasts…
Figure out which type of content creation your best at, get even better and then put yourself out there, using your travel blog as a resume to get assignments.

Consulting
I know the word "consultant" is used very lightly these days, but the fact is that if you're doing a good job at something, you're almost certainly doing a much better job than a lot of other people – people who are willing to hire you for advice and training.
Think of the knowledge you've acquired while blogging. Is there an area that fascinates you more? Something you really stand out in? Then why not put that knowledge to use to help brands with their marketing or bloggers work with brands.

Speaking
I haven't spoken at a conference myself yet, but there are plenty of travel bloggers who have. Although speaking doesn't always pay, it can and even when it doesn't, it can often lead to great networking and work opportunities.

Offering travel advice, travel planning and tours
As a travel expert (you did become an expert, didn't you?), you can help your readers plan their next trip. You can give them advice or create an entire itinerary for them. Heck, you could even organize tours for them!
Amanda from MarocMama organizes food tours in Marrakech, Ian from Where Sidewalks Ends takes his readers off the beaten path, and Wandering Earl guides his readers around all over the world.

Note
Whenever you receive any kind of compensation or freebie from a brand you're working with, that should be disclosed.

And that's that! I hope you found this post useful and now feel confident that you know how to create a blog. I don't blog about blogging a lot, so I tried to make sure I covered as much as possible in this one guide. If you found it helpful, please take a moment to share it. It would make me ever so happy.
Thanks!
Don't make these mistakes when planning your next trip
Sign up for the newsletter and learn which mistakes you need to prevent when booking your trip - especially given the current circumstances.
By subscribing, you agree to the privacy policy. We'll never spam you and you can unsubscribe at any time.